Crime and coronavirus: social distancing, lockdown, and the mobility elasticity of crime
Abstract
Governments around the world restricted movement of people, using social distancing and lockdowns, to help stem the global coronavirus (COVID-19) pandemic. We examine crime effects for one UK police force area in comparison to 5-year averages. There is variation in the onset of change by crime type, some declining from the WHO 'global pandemic' announcement of 11 March, others later. By 1 week after the 23 March lockdown, all recorded crime had declined 41%, with variation: shoplifting (− 62%), theft (− 52%), domestic abuse (− 45%), theft from vehicle (− 43%), assault (− 36%), burglary dwelling (− 25%) and burglary non-dwelling (− 25%). We use Google Covid-19 Community Mobility Reports to calculate the mobility elasticity of crime for four crime types, finding shoplifting and other theft inelastic but responsive to reduced retail sector mobility (MEC = 0.84, 0.71 respectively), burglary dwelling elastic to increases in residential area mobility (− 1), with assault inelastic but responsive to reduced workplace mobility (0.56). We theorise that crime rate changes were primarily caused by those in mobility, suggesting a mobility theory of crime change in the pandemic. We identify implications for crime theory, policy and future research.
How close has the Covid-19 pandemic pushed us to the edge of our mental health limits?
Trends in suicide during the covid-19 pandemic
An editorial from the BMJ, discussing the increasing trends in suicide during the Covid-19 pandemic. The article discusses the currently available data and suggests preventative measures.
Forensic Identification from a Single Strand of Hair is Now Possible
Surface-enhanced Raman Scattering and X-ray Fluorescence Analyses of a Single Hair Colored with a Hair Dye Product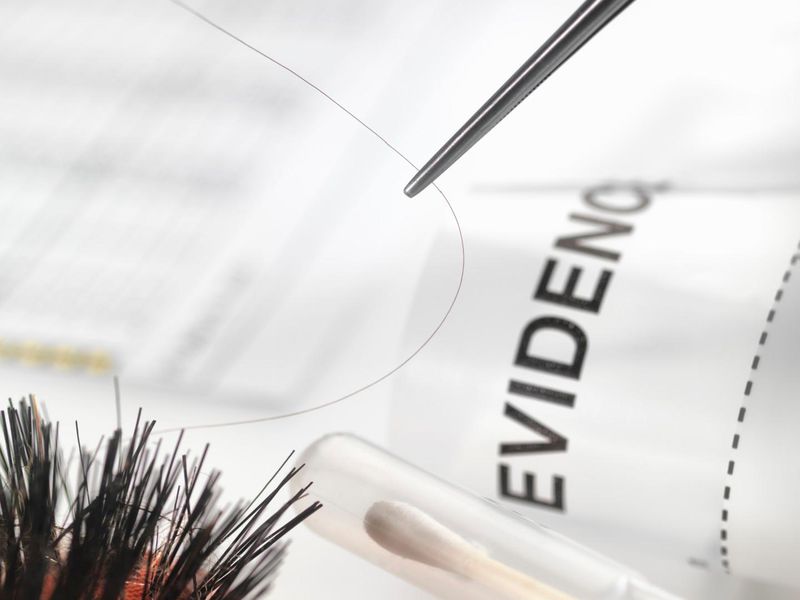 This paper describes a method for obtaining information that can contribute to individual identification from a single hair colored with a hair dye product using a combination of surface-enhanced Raman scattering (SERS) and X-ray fluorescence (XRF) analyses. SERS and XRF spectra of single hog hairs colored with several commercially available hair dye products were measured. SERS spectral patterns tended to be different depending on the hair dye products used for hair coloring. However, SERS spectral patterns of single hog hairs colored with different hair dye products that would produce similar types of dyes were similar. By performing XRF analysis, characteristic metallic elements originating from some hair dye products were detected. Therefore, XRF can contribute to identifying the difference among colored hairs that cannot be identified only by SERS. SERS and XRF analyses of a single shed hair can contribute to individual identification used in forensic science.
An overview of the latest protocols for diagnosis and biosafety in Covid-19 postmortem cases by the American Journal of Forensic Medicine and pathology.
COVID-19
Postmortem Diagnostic and Biosafety Considerations
Abstract
As a result of the 2019 novel human coronavirus (COVID-19) global spread, medical examiner/coroner offices will inevitably encounter increased numbers of COVID-19–infected decedents at autopsy. While in some cases a history of fever and/or respiratory distress (eg, cough or shortness of breath) may suggest the diagnosis, epidemiologic studies indicate that the majority of individuals infected with COVID-19 develop mild to no symptoms. Those dying with—but not of—COVID-19 may still be infectious, however. While multiple guidelines have been issued regarding autopsy protocol in cases of suspected COVID-19 deaths, there is some variability in the recommendations. Additionally, limited recommendations to date have been issued regarding scene investigative protocol, and there is a paucity of publications characterizing COVID-19 postmortem gross and histologic findings. A case of sudden unexpected death due to COVID-19 is presented as a means of illustrating common autopsy findings, as well as diagnostic and biosafety considerations. We also review and summarize the current COVID-19 literature in an effort to provide practical evidence-based biosafety guidance for medical examiner-coroner offices encountering COVID-19 at autopsy.
The early postmortem interval (PMI) can be an important clue to investigators. Recent research suggests new noninvasive techniques that can determine the time of death accurately to the hour.
Reconstructing the time since death using noninvasive thermometry and numerical analysis
Abstract
The early postmortem interval (PMI), i.e., the time shortly after death, can aid in the temporal reconstruction of a suspected crime and therefore provides crucial information in forensic investigations. Currently, this information is often derived from an empirical model (Henssge's nomogram) describing posthumous body cooling under standard conditions. However, nonstandard conditions necessitate the use of subjective correction factors or preclude the use of Henssge's nomogram altogether. To address this, we developed a powerful method for early PMI reconstruction using skin thermometry in conjunction with a comprehensive thermodynamic finite-difference model, which we validated using deceased human bodies. PMIs reconstructed using this approach, on average, deviated no more than ±38 minutes from their corresponding true PMIs (which ranged from 5 to 50 hours), significantly improving on the ±3 to ±7 hours uncertainty of the gold standard. Together, these aspects render this approach a widely applicable, i.e., forensically relevant, method for thermometric early PMI reconstruction.
Researchers at the University of Crete use modern techniques to determine the cause of a 33,000 year old scull.
State of the art forensic techniques reveal evidence of interpersonal violence ca. 30,000 years ago

Abstract
The Cioclovina (Romania) calvaria, dated to ca. 33 cal ka BP and thought to be associated with the Aurignacian lithic industry, is one of the few relatively well preserved representatives of the earliest modern Europeans. Two large fractures on this specimen have been described as taphonomic modifications. Here we used gross and virtual forensic criteria and experimental simulations on synthetic bone models, to investigate their nature. Both forensic trauma pattern analysis and experimental models exclude a postmortem origin for the Cioclovina fractures. Rather, they indicate two incidents of blunt force trauma, the second clearly inflicted with a club-like object. The magnitude and extent of the lesions and the lack of signs of healing indicate a fatal injury. The Upper Paleolithic period is noted for intensified technological innovation, increased symbolic behavior, and cultural complexity. We show that the behavioural repertoire of the earliest modern Europeans also comprised violent inter-personal interactions and murder.
Forensic Middle East & Africa Event accredited by Academy of Forensic Medical Sciences for 23 CPD Credits
We are delighted to announce that the Virtual Forensic Middle East & Africa Virtual Conference has been accredited by the Academy for 23 CPD points. Registration for this event is free and there is only a simple registration required for attendance via the link below. We wish the Organisers our very best wishes for an effective, successful and productive Conference.
Full details and a press release can be found below.
THREE DAY VIRTUAL FORENSICS CONFERENCE KICKS OFF ON MONDAY
Forensic experts will gather and share their lessons learned during what has been some of the most challenging times seen in the forensics community.
Forensics Middle East & Africa will be held virtually on 12-14 October, as the 4th instalment of Clarion Defence & Security's forensics conference series held in the MENA region. After previous successful editions in Abu Dhabi and Bahrain, the virtual event will bring together delegates from all specialities of forensic science looking to exchange knowledge and better practices for the sector. The conference is jointly organised with the Arab Union of Forensic Toxicology and Sciences, which has spearheaded the organising committee in an effort to produce an agenda with compelling scientific content.
The event will open with a day of collaborative sessions including four expert-led workshops covering DVI Interpol guidelines training, an International Committee of the Red Cross mass fatality response planning session, COVID-19 digital tracking demo and a forensics education online training platform solution. On the conference days, forensic science leaders from all over the world will deliver a total of 50 oral presentations in addition to two afternoon poster sessions containing rapid fire presentations on emerging research. On the final day, the conference will conclude with a 15 member, Arabic panel discussion covering challenges and opportunities in the region with representatives from Morocco to Iraq under the moderation of AUFT's President – Dr. Dina Shokry.
Amongst the keynotes confirmed to present at the event are: Dr. Angel Carracedo, President of the International Academy of Legal Medicine; Professor Claude Roux, President of the International Association of Forensic Sciences; Dr. Duarte Nuno Vieira, Chairman of the Scientific Advisory Board of the Prosecutor of the International Criminal Court and Oran Finegan, Head of Forensics for the International Committee of the Red Cross. In addition to the highlighted keynotes and presenters, the conference is supported by commercial sponsors who will be sharing their latest research & development findings in sponsored conference sessions as well virtual sponsor booths.
The three day, free-to-attend event will offer a much-needed space where a community of forensic practitioners - many of who are frontliners in the current pandemic - a space to learn, train, discuss and network without needing to leave their home or office. This year has been one of the most challenging times seen in the forensics community and this will provide forensic experts a place to share their lessons learned and procure new equipment solutions.
Registration is simple and free via the website: www.forensics-mea.com.