In 2015 the Government attempted to address the issues relating to knife crime incidents within England and Wales. With the current surge in knife crime within and around the capital, it has left many in London living in fear of leaving their houses. This high increase of knife related crime continues to rise and remains an important topic on the political agenda and social arena.
According to the Metropolitan Police, there is a significant increase for the first time in eight years in knife crime in London. At the end of March 2015, the Metropolitan Police recorded 9,680 offences (37%) involving knives and other sharp instruments. These figures also showed that there has been a 5% increase in knife injury to under 25 year olds, which earlier in the year this stood as a 22% increase.
As society changes, there seems to be a major rise within violence at home, schools and on the streets; some of which are gang affiliated. Whilst there are other weapons such as guns, swords, baseball bats etc, the knife seem to the preferable choice of weapon for many.
According to the Office for National Statistics (1), offences involving knives or sharp instruments also rose by 2% over the same period (to 26,374). A knife or sharp instrument was found to be involved in 10,270 (39%) robberies and 13,488 (51%) as part of offences of assault with injury or assault with intent to cause serious harm. These figures also reflect the fact that within England and Wales, there was a nine per cent (9%) rise in the number of people caught carrying a knife and a ten percent (10%) increase in knifepoint rapes and sexual assaults (2). Homicides involving a knife or sharp instrument made up around 1% of the total number of knife or sharp instrument offences.
crime being reported to the police. This would significantly affect the overall percentage, as before March 2011, there were a lot of inconsistencies in how knife (including sharp instruments) crime were recorded between the different police force. For example, the West Midlands police force would record broken bottles and glass offences before 2011, which is now excluded from the national data. However, such offences are still recorded within Surrey under knife and sharp instrument returns. John Flatley, head of crime statistics at the ONS believes that the rise in knife crime was real and unlikely to be due to changes in recording practices (3).
In a response to this rise, commander Dean Haydon, head of Scotland Yard's homicide and major crime command, and commander Duncan Ball, head of combating gang crime, said four key factors were behind the rise (4) : "the dark web being used to purchase weapons, such as the zombie knife which has a foot-long blade, a cultural change among young people that is encouraging them to use knives, even for trivial disputes or minor theft,reductions in the use of stop and search and improved recording of knife crime statistics."
In an interview with the Evening Standard newspaper (5), the Metropolitan Police Commissioner Sir Bernard Hogan-Howe, also admitted that limiting stop and search had gone too far and had contributed to the rise in knife offending. He further stated that "the policy would be reversed and more searches carried out." Some gang members and young people told the police that the reduction of stop and search was no longer a deterrent to them, so carrying of knives and other weapons was much easier. This was after the now home secretary, RT Hon Theresa May called on the different forces to reconsider how they were using stop and search. She further stated (6) "nobody wins when it's used poorly – particularly if used unfairly against young black men."
Some officials fail to believe that there is a direct link between stop and search and knife offences as it has never been proven. According to Mark Castle from Victim Support, dealing with the devastating effect of knife crimes on the victims, particularly young people and their families first hand, more work needs to be done to educate people about the dangers of carrying knives (6).
This rise in knife crime can be attributed to a number of factors. Society is changing and there appears to be an increase in violence generally, whether in the home or on the streets. The 'Stop Knife Crime' campaign launched by the Met Police, highlighted that amongst some groups of young people there is an attitude that life is cheap and an increasing number seem prepared to carry a knife whether it is for protection or for use in crime (7).
According to the latest Metropolitan Police Service statistics, released on April 15th 2016, there were 46 more knife crime offences, 77 more knife injuries and three more gun crimes from April to March 2015/16 compared with April to March 2014/15.
The families of knife crime victims also work endlessly in promoting peace within their local communities and raising awareness around the tragic experience whether it is loss of a life or survivors of an assault. The call for tougher penalties for those perpetrators, led to new legislations that means that those convicted of carrying a knife for the second time will face a mandatory custodial sentence. In spite of major cut to the police budget, in July 2015, the Met Police launched Operation Sceptre that was designed to coincide with new legislation aimed at reducing knife crime across the whole of London. According to the Metropolitan Police, Operation Sceptre seeks to target not only those who carry and use knives, but also the supply, access and importation of weapons (7).
The Home Secretary Theresa May has recently announced a new agreement of principles between the major retailers and the government with the aim to tackle the knife crime epidemic. According to the agreement, Tesco, Lidl UK, Amazon UK, Wilko, Argos, Morrisons, Asda, Poundland, Sainsbury's, John Lewis, and Waitrose have committed to continuous staff training, "safely displaying and securely packaging knives, raising public awareness of age restrictions, and robust age verification checks for knife sales whether in-store, or if ordered online, at point of collection or delivery."(8)
Knives in one high street store kept locked in a thickened glass cabinet.
Detail of warning sign in the window: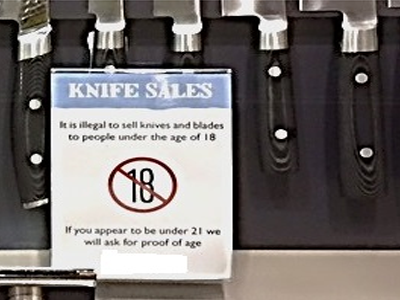 This voluntary principle will include a commitment for law enforcement to conduct follow-up test purchases of knives in 6 months and to provide feedback to retailers to take action to tackle breaches of the law. The government will work with the British Retail Consortium to extend this agreement to other retailers. Many acknowledge this as a significant step to reduce the easy access of acquiring a knife.
Home Secretary Theresa May follows up on the agreement by stating…. "Knife crime has a devastating impact on victims, families and communities, and I am determined to do all I can to prevent it.Retailers have a vital role to play in this fight and I welcome today's commitment.Knives have no place on our streets.
In response to this escalating knife problem, MP and now the Mayor of London, Mr Sadiq Khan, expressed his concern regarding curbing the epidemic. Before being elected to the office of Mayor of London, he said, "I have a real plan to tackle knife crime – based on my experience working with the victims of crime and the police as a lawyer and MP (9)."He further states his plan would include, tougher and more effective sentences for those caught with knives, stop shops selling knives to kids, properly map London's gangs and make our prevention programmes more effective.
With the latest knife stabbing victim dying, just yards away from Sadiq Khan's house in Tooting South London, he expressed his sympathy …." Obviously, as a dad that's very worrying, but my thoughts are with the mum and family of the victim." (10) Mr Khan called for tougher action to tackle people carrying knives in London and acknowledged that "knife crime is a growing tragedy in London – we must do more to stop it." (11)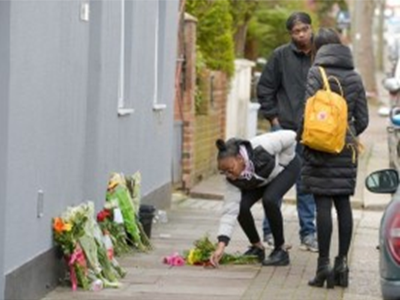 People leaving floral tributes to Mr Elwin, who was training to become an electrician at Merton College (Courtesy, The Mirror Newspaper, 19th April 2016).
Mr Sadiq' and current MP Mr Goldsmith (Conservative mayoral candidate) also shared similar views calling for tougher checks to prevent the sale of 'zombie knives' online to under 18s. (9) The Government are working on new legislation to ban the so-called 'zombie-killer' knives.
Cuts to the Met Police force budget of over four million pounds, meant that there are limited resources available, including the police presence in high crime areas.
Fighting knife crime has to be a collective process, not only a problem for the police or the government. The impact of new policies, legislation and lengthy prison sentences will have slower longer term. However, we have to work with the community to reduce knife crime and knife violence – it will not happen overnight.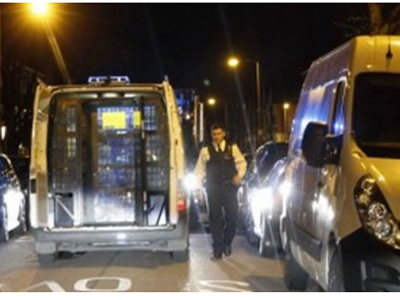 Police officers at the scene where a man was stabbed in Tooting (Courtesy Nigel Howard, The Evening Standard, 19th April 2016)
REFERENCES
Flatley, J. Chapter3: Offences involving the use of weapons.
https://www.ons.gov.uk/peoplepopulationandcommunity/crimeandjustice/compendium/focusonviolentcrimeandsexualoffences/yearendingmarch2015/ chapter3offencesinvolvingtheuseofweapons#offences-involving-knives-or-sharp-instruments-prevalence-and-trends.
[Online]11 February 2016.[Cited: 18 February 2016.] https://www.ons.gov.uk/peoplepopulationandcommunity/crimeandjustice.
Martin,Bentham M. Evening Standard.
http://www.standard.co.uk/news.[Online]15 October 2015.[Cited: 18 Jnanuary 2016.] http://www.standard.co.uk/news/crime/knife-crime.
T, Alan. The Guardian. The Guardian. [Online] 16 July 2015. [Cited: 19 April 2016.] http://www.theguardian.com/uk-news/2015/jul/16/knife-in-england-and-wales-up-for-first-time-in-four-years.
D, Vikram. Metropolitan police say knife crime up 18% in London. [Online] 20 September 2015. [Cited: 22 February 2016.] http://www.theguardian.com/uk-news/2015/sep/20/metropolitan-police-say-knife-up-18-in-london.
Martin, Justin D. Evening Standard. Evening Standard. [Online] 15 October 2015. [Cited: 17 April 2015.] http://www.standard.co.uk/news/crime/knife-crime-in-britain.
London, BBC News. BBC. BBC. [Online] 16 July 2015. [Cited: 3 4 2016.] http://www.bbc.co.uk/news/uk-33547806.
Police, Metroploitan.Knives take lives. Find out how to help us StopKnifeCrime .[Website] London : s.n., 2016.
Office, Home. International Crime and Policing Conference 2016 and Knife, gun and gang crime. Home Office. [Online] 23 March 2016. [Cited: 18 March 2016.] https://www.gov.uk/government/news/government-and-major-retailers-unite-to-tackle-knife-crime.
P, Laura. Evening Standard. Evening Standard. [Online] Saturday January 2016. [Cited: 18 April 2016.] http://www.standard.co.uk/news/crime/the-15-teenage-victims-of-knife-crime-in-2015-a3143901.html.
John, Matt, Pippa and Justin D. Evening Standard News. Evening Standard. [Online] 19 April 2016. [Cited: 19 April 2016.] http://www.standard.co.uk/news/crime/tooting-stabbing.
E, Sophie. The Mirror News. The Mirror. [Online] 19 April 2016. [Cited: 20 April 2016.] http://www.mirror.co.uk/news/uk-news/tooting-murder-first-picture-trainee-7787629.