Pathology of Sharp Force Trauma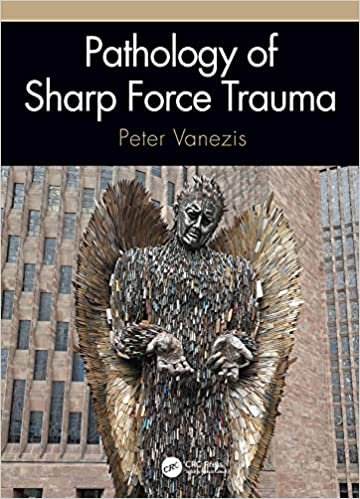 Pathology of Sharp Force Trauma illustrates and details sharp force trauma as seen in forensic pathology case work as well as in the clinical setting, outlining how one informs the other in interpreting such trauma for medico-legal purposes.
For the purposes of discussion, the author defines sharp force trauma as: "The application of force to produce an injury which results in a clear division or separation of the skin and underlying tissues". Sharp force trauma may be caused by all manner of implements with a sharp edge and/or pointed end, whether or not they have been produced for use as a weapon, and includes knives, broken glass, scissors and many others, to name but a few. Certain tools, such as axes or machetes, combine a sharp edge with heavy weight and produce injuries with both sharp and blunt impact elements.
In many countries, with the exception of those where firearms are readily available, sharp force trauma?particularly the use of knives?is the most common method of homicide and a frequent source of morbidity seen in emergency departments. Also, there has recently been an alarming upsurge in the use of knives in gang-related assaults and in terrorist incidents. As such, the book takes a comprehensive approach in explaining the different aspects of such trauma, most importantly the manner in which the victim has died. This includes cases of homicide, suicide or accident, indicating the type of weapon responsible, explaining how it was used, and presenting other such information to the investigation of such cases.
Features:
• Includes over 400 full-color graphic and illustrative images throughout
• Addresses all aspects of the investigation including trauma, crime scene findings, post-mortem examination, characteristics of injuries and categorization into homicide, suicide or accident
• Covers the biomechanics of knife trauma and tool mark examination techniques to identify implements used
• Illustrates penetrating injuries caused by pointed implements which have linear components, such as arrows, nails, spears, stakes and others
• Details cutting, penetrating, and other sharp force injuries resulting from medical intervention in a healthcare environment, such as might occur during surgical procedures
• Examines sharp injuries caused by domesticated and wild animals
• Written by one of the premier forensic pathologists in the world with over 40 years of first-hand case experience
Pathology of Sharp Force Trauma is the first substantive book published in English to look exclusively at this subject. Although primarily intended for pathologists and clinicians who are involved in the examination of such injuries in the post-mortem room or in a hospital environment, it will also be of interest to medical examiners, police and criminal investigators, attorneys and legal professionals, personnel in other forensic disciplines, and all doctors and medical students with an interested in trauma and its management.
Publisher: CRC Press; 1st edition (12 July 2021)
Language: English
Hardcover: 322 pages
ISBN-10: 1498768628
ISBN-13: 978-1498768627
Essential Forensic Medicine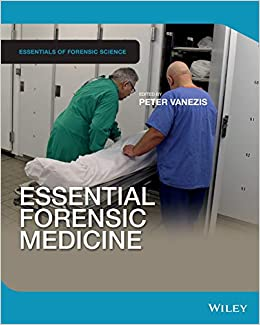 Provides an invaluable distillation of key topics in forensic medicine for undergraduate, masters, and postgraduate students
Essential Forensic Medicine covers the broad area of the forensic medical sciences, delivering core knowledge in the biomedical sciences, and the law and ethics surrounding them. Concise, accessible chapters cover a wide range of topics from basic forensic identification and examination techniques to forensic toxicology and psychiatry.
Written by internationally-recognized experts in the field, this authoritative guide offers complete chapter coverage of the legal system, courts, and witnesses; investigation of the deceased and their lawful disposal; and the duties of a registered medical practitioner and the General Medical Council. It instructs readers on the general principles of scene examination and the medico-legal autopsy including how to interpret the many kinds of injuries one can suffer—including those from blunt impact and sharp force, firearms and explosives, asphyxia and drowning. Further chapters cover sexual offences, child abuse, and using DNA in human identification, mental health, alcohol and drug abuse.
A fresh, accessible, up to date textbook on forensic medicine
Written by a well-known experts with decades of experience in the field
Includes numerous figures and tables, and detailed lists of key information
Features numerous case studies to reinforce key concepts and ideas explored within the book
Helps students to prepare for examinations and enables practitioners to broaden their understanding of the discipline
Part of the "Essential Forensic Science" series, Essential Forensic Medicine is a highly useful guide for advanced undergraduate students, master's students, and new practitioners to the field.
Publisher: Wiley; 1st edition (30 Jan. 2020)
Language: English
Paperback: 480 pages
ISBN-10: 047074863X
ISBN-13: 978-0470748633
Investigation of Sudden Infant Death Syndrome
Sudden unexpected infant death, including sudden infant death syndrome, is the leading cause of death in infants one month to one year of age, in the developed world. A thorough investigation is crucial for accurate diagnosis. As part of the Diagnostic Pediatric Pathology Series, this book provides a detailed guide to various diagnoses and strong frameworks across continents, for strong support in conducting a multi-professional approach to the physiopathological mechanisms behind SIDS. Offering sensitive consideration for parents in mourning, this book rigorously explores current standards of police investigation and post-mortem, incorporating all aspects of the investigation, including the home visit, medical history and autopsy findings. Written by multidisciplinary experts, this vital guide uses clear reference tables and diagrams to present cutting-edge knowledge for use by paediatric and general pathologists, paediatricians, medico-legal practitioners, and all involved in the investigation of sudden infant death.
Publisher: Cambridge University Press; 1st edition (June 2019)
Language: English
Hardcover: 288 pages
ISBN-10: 1108185983
ISBN-13: 978-1108185981
Forensic Neuropathology
Forensic neuropathology is an important specialty within forensic pathology. In addition to traumatic brain injury in the adult and child, forensic neuropathologists must also consider the role of natural disease within the forensic setting such as cerebrovascular disease, as well as neurotoxicology. Focusing on difficulties that arise in the medico-legal context, the chapters include techniques for the post-mortem examination of the brain and related structures. Forensic pathologists, neuropathologists, general pathologists, clinical forensic specialists as well as neuroscientists, neurologists and neurosurgeons will all find useful information. In addition, members of the legal profession have found this an important reference work.
Chapters have been extensively revised and new content includes
Chronic traumatic encephalopathy-related pathology
Sudden unexplained death in epilepsy
Biomechanics of head injury
Updates on pathological aspects of head injury including infant head injury with ocular pathology
Clinical aspects of head injury and spinal injury including a new chapter on neuroradiology
Publisher: CRC Press; 2nd edition (10 Aug 2021)
Language: English
Hardcover: 266 pages
ISBN-10: 1498706169
ISBN-13: 978-1498706162
DiMaio's Forensic Pathology